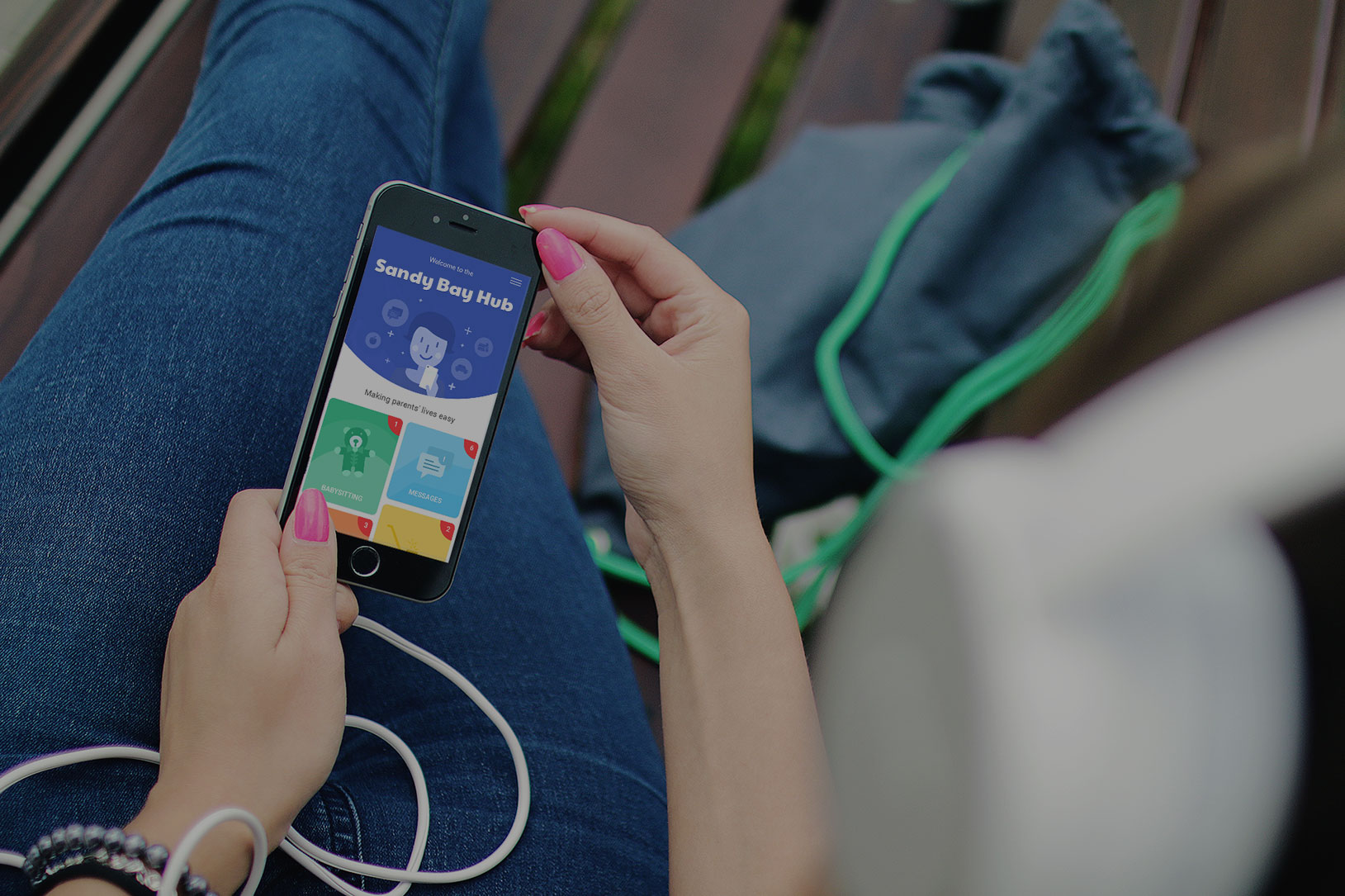 Building trusted
digital communities
around our
local schools
Connecting parents and students in our local schools
We are here to make working, trading, and socialising easier by connecting you with the people in your school community.
My School Hub will soon have three new screens - market, jobs and social.

Through the app, you can:

- Book the babysitter who lives down the street.
- Buy, rent or sell a balldress to your classmates.
- Message your netball team about the game this Saturday.
- Start to build and grow your digital CV.
Schools
Foster a stronger school community
Send notifications to parents

Fundraising (50c per booking if the school markets the app to parents)

Builds links betweens schools (secondary school students can provide services to local primary schools)
How My School Hub app works
Let's walk-through how easy it is to book a babysitter...
Available on the app stores
Download to your phone or tablet and start connecting to others in your school community!
+ Do I have to pay to use My School Hub?
When you use My School Hub, you only pay for the bookings you make. For babysitting, tutoring and general help jobs there is a 7.5% booking fee.
+ What schools can I connect with?
The My School Hub app will connect you to parents and students within a limited, local geographic area.
+ How do I get to choose a babysitter or tutor?
Your job request will be sent to several available users through the My School Hub app. You can then review their profile (which outlines experience) and choose your preference. My School Hub also indicates the number of jobs each user has performed and their rating (in smiles).
+ How do I book a babysitter or tutor I already know?
You have the option of saving 'favourites' in your settings. These users will receive your job offers first. If you already have a user in mind or a friend has recommended someone, you can type their name into the search box to find their profile.
+ Do I have to sign up for every type of job?
You can select which jobs you want to receive requests for. For example, if you only want to tutor year 5 reading, you will only receive these job requests. If you receive a job request and you are not available, simply mark yourself as 'unavailable' when the request comes through.
+ If I type in my phone number and address, will everybody be able to see where I live?
No. This information is only entered so that you only connect with people who are geographically close. Users will be able to see each other's addresses when confirmed for a job.
+ What if I need to cancel my booking?
You can cancel a job anytime, up until the job begins. You can access your booking in your 'Manage Bookings' section. You can also view upcoming jobs and jobs already completed (in case you forget who that great maths tutor was last month!).
+ What if I need to change my booking?
In your 'Manage Bookings' section, you can send a message to the user you are booked with. Use this to adjust start time, location, or send further information about the job.
+ Are users reviewed?
Yes. We believe in two way accountability, so both parties will have the opportunity to give each other a 'smile', no 'smile', or report a specific concern. If a concern is made, this will be resolved privately.
+ How do I pay for a booking?
Once a job has been completed and you stop the timer, My School Hub will work out the total payment owed to a user by multiplying the hours worked by their individual hourly rate. There is an option to adjust payment to account for petrol, overtime, bonuses, or other expenses. Once you confirm payment, your credit card will be charged automatically. For rollover bookings (such as part time work and after school nannies), payments are automatically made on a weekly basis for hours worked the week prior.
+ How do I get paid?
Hub App Ltd will process the payment from parents and pay you your accumulated wages on the 14th and 28th of each month.
+ Do I have to pay tax?
Hub App Ltd treats all students as contractors. As such, you are responsible for paying your own tax.
+ Can I choose who to sell/rent my item to?
Yes. When you list an item for a fixed price, a notification will go out to interested parties in your community. People who want to buy your item will make an offer (based on the same fixed price). You can select which user to complete the transaction with.
+ Do I receive notifications about every item listed?
When a vendor lists an item, they choose a category (eg. fashion, electronics, tickets, textbooks etc.) You can select which categories of items you would like to receive notifications about.
+ Can I ask questions about an item?
Yes. Before you make an offer, you can message the user listing the item through our in-app messaging system to ask questions to clarify the item that is for sale.
+ What if I change my mind?
You can withdraw your listing at any point before an offer is made.
+ What happens when a sale is confirmed?
We put the vendor and the purchaser in touch (via our in-app messaging system) to work out the best way to handover the item.
+ How does the money work?
Hub App Ltd will process the payment from purchasers, deduct a 5% booking fee, and get the payment to you every Thursday.
+ Does it cost the school anything to support My School Hub?
There is no cost for schools to use My School Hub. If a school chooses to promote My School Hub to parents and school community members, My School Hub will donate 50c back to the school for every completed babysitting or tutoring job.
+ How do we police who is included in the My School Hub school community?
My School Hub shows profile pictures of members (both students and adults) within the app and provides users the ability to vouch for (and report) other users.
+ How old do students have to be to offer babysitting, tutoring or general help services on My School Hub?
Only students in years 11, 12 and 13 can perform babysitting, tutoring and general help services.
+ Can schools use My School Hub to communicate with parents?
Yes. The app includes a tool for schools to send parents and students (by year group) using the app tailored notifications.
+ Is My School Hub cyber secure?
Yes. The app has been audited by an independent cyber security firm.
+ Will My School Hub use my school's branding or insignias?
My School Hub uses its own branding and does not use any individual school imagery or brand design. We also clearly state that My School Hub is an independent, third-party provided app.
My School Hub was established in 2015 by David Gibson and Felicity Ellis, initially to solve a common problem in our neighbourhood — connecting families with babysitters from local schools in the area. We quickly learned that parents and students alike were keen to have a broad range of services and content available to them digitally, including tutoring, nannying, and inter-community messaging.
In 2017, the app was successfully launched and trialled at Diocesan School in Auckland, with almost 700 parents and students using the app. In 2018,
In 2018, My School Hub was launched nationwide in New Zealand to approximately 2,500 digital school communities. Feedback from users has been overwhelmingly positive.
This year, we roll out My School Hub 2.0, featuring our brand new 'market' trading platform, increased social connectivity, and an expanded 'CV' for users. We know you'll love it. .
Contact Us
We'd love to hear from you! We welcome all feedback and questions from parents, students and schools alike.